The Pierce House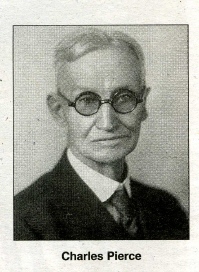 Charles Harlow Pierce
1849-1935
It was easy to find a new name for the residential care facility operated by the President and Trustees of the Farmington Home for Aged People, Inc., when the name Eighty Main Street became obsolete by a change in the home's street number, to accommodate the new 911 emergency system. The Board of Trustees turned at once to the prominent Farmington man who sold his home in 1920 to the then newly organized group, The Farmington Home for Aged People.
This man was Charles H. Pierce: farmer, banker, and public official. The residence, now at 204 Main Street – yet, still in the same spot between the post office and Henderson Memorial Baptist Church, in downtown Farmington, will hereafter be known as The Pierce House.
Mr. Pierce purchased the home in 1907 after renting the residence for almost a year, moving his family from the farm on the Sandy River to the village of Farmington. His occupations were many and varied.
Born on April 27, 1849, in Canton, Maine, Pierce spent his childhood in Livermore, Maine. At 18 he moved to Massachusetts, where he worked for two years before trekking to California to work among the giant sequoia, or redwood forests.
After a year he returned to Boston to work in a grain store. Later, he bought the business. He built up a large trade in flour, grain, hay, and straw. He also ran a boarding stable for ten years.
In 1879 he came to Farmington to purchase the Amasa Corbett farm, located about halfway between Farmington village and Farmington Falls. He then bought about half the Henry Manter farm, cobbling together one of the best farms along the Sandy River.
In August 1894 he sold the farm and moved his family to Farmington. He became tax collector in 1891, a position he held for 38 years. He was also water rental collector for the Farmington Village Corporation. It is interesting to note that in 1891 the assessment amounted to $27,239, and in 1928, the year of his retirement, it had increased to $109,258.
Mr. Pierce was on the Board of Trustees of the Peoples Trust Company, became a director when the company became Peoples National Bank, and then, in 1918, succeeded George M. Currier as president. He was made chairman of the board, an honorary position, when he retired.
Pierce was elected to the Maine Legislature; he served as a Democrat in the 1915-1916 session.
In the early 1880s Mr. Pierce became an active member of the Franklin County Agricultural Society. He was Treasurer from 1915 to 1924, succeeded by his son-in-law, Jarvis L. Tyler.
Pierce was also active in the Franklin Lodge, I.O.O.F., where he served as Noble Grand in 1893, and treasurer from 1884 to 1932.
In 1871 Pierce married Ella C. Perkins of Chesterville; they had four children. Only one, Elsie, survived him. Elsie married Tyler; they had two children. Maxine Tyler married G.L. Ibarguen, and Robert Tyler married Agnes Webber. Both Maxine and Robert are deceased.