Location
The Pierce House is located on Main Street in downtown Farmington, Maine. Farmington is a vibrant small town with an interesting history. Located in rural western Maine, Farmington is surrounded by farms, lakes, mountains, and forests. It's a peaceful area, popular with retirees and nature lovers. There are plenty of recreational and sporting activities such as hunting, fishing, swimming, skiing, and snowmobiling. The area is also notable for it's agricultural fairs, educational opportunities, and unusual museums.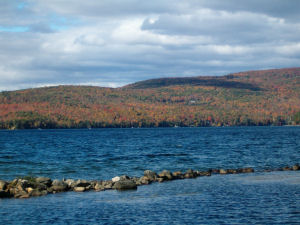 The Pierce House can be found on Main Street, bordered front and back with wide lawns, flowerbeds, and trees. On its north side is the Farmington Post Office; the Henderson Memorial Baptist Church is on the south. Just past the church are the Farmington Public Library, the Farmington Historical Society, and the University of Maine at Farmington. Continue past the Post Office and you'll find banks, shops, restaurants, and local businesses. Franklin Health Commons, local hospital and physician offices, is three miles west of The Pierce House. Beautiful Clearwater Lake is six miles to the east.
Famous area residents include Chester Greenwood, inventor of the earmuff; snowboarder Seth Wescott, Olympic gold medalist; Lillian Nordica, opera diva; and Maine Guide Fly Rod Crosby.
Several of these local celebrities have ties to The Pierce House. Chester and Isabelle Greenwood were on the Board of Trustees, and Isabelle was a Treasurer. Madame Nordica purchased one of the first Life Member certificates, though she never resided here. Seth Wescott's boyhood home abuts the back lawn of The Pierce House.
The Farmington area is host to several unusual museums. The Stanley Museum in Kingfield features steam cars and photographs circa 1910. The Wilhelm Reich Museum, Orgonon, is located in beautiful Oquossoc. This Museum provides information and exhibits from Reich's scientific research into human energy. Farmington offers the Ski Museum of Maine and the Nordica Museum. The former showcases the history of skiing and ski slopes in Maine. The Nordica Museum features fabulous opera costumes and personal items that belonged to tragic 19th century opera singer, Madame Lillian Nordica. Step back in time at Washburn-Norlands Living History Center. Just down the road in Livermore, Norlands recreates the farm life of Maine in the 1800s. Norlands features seasonal festivals, magnificent architecture, and fascinating history.
These marvelous local resources influence residents of The Pierce House. Residents enjoy the natural beauty of their surroundings daily, and participate in festivals and events throughout the year. Come explore The Pierce House and the Farmington community today!