Rooms & Accommodations
We provide private rooms with baths. Rooms are fully furnished, or the resident may choose to provide his or her own furnishings. Each resident room provides a closet; additional wardrobe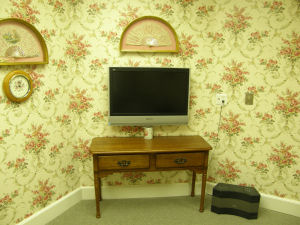 storage is provided within the facility. Each room is tastefully decorated with coordinated wallpaper and window treatments.
The common rooms: the Parlor, Living Room, Dining Room, and Front Porch preserve the historic nature of the home. The Activities Room provides space for special events, family gatherings, exercise, and games.
Outside, we provide a patio with umbrellas, tables, and chairs. Residents may relax and enjoy the patio daily; the patio is also used for special events. The circular paved area offers a safe environment for walking. Facility landscaping includes trees, shrubs, flowerbeds, and manicured lawns. The entire backyard is fenced in for security and privacy.